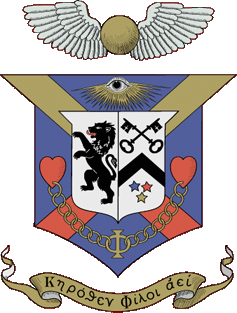 Prominent
Alumni
for the index to DKE "Stories of the Week"
FRANK C. ALBERT '42
Sigma Rho / Stanford
---

He Fit Football to a 'T'
WHEN HEAD FOOTBALL COACH Clark Shaughnessy arrived at Stanford in 1940, he brought with him a strange new offense his players had never seen: the so-called T-formation. It required the quarterback to stand directly behind the center on the line of scrimmage—instead of several yards back as players in the "single-wing" formation had done—and to be the primary ball handler on each play. To operate his scheme, Shaughnessy chose an undersized, left-handed junior who wore the unlikely No. 13—Frankie Albert.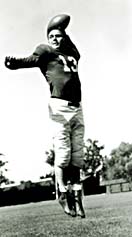 Courtesy Stanford Athletics
WOW BOY:
Albert led Stanford
to an undefeated
season in 1940.
Teammate and Delta Kappa Epsilon brother Milton Vucinich recalls that Albert had to learn Shaughnessy's system in one spring practice. "Frank didn't have anybody to model—he was the first guy doing this," says Vucinich, '43. "We were all wondering, 'How in the hell is this going to work?' But he made it work."
The 5-foot-8 Albert perfected sophisticated feints to keep the defense off-balance, including the "bootleg" play in which the quarterback conceals the ball on his hip after faking a handoff. "A magician with the ball," Shaughnessy would later say of his quarterback, who led that 1940 team—the "Wow Boys"—to an undefeated season, capped by a 21-13 victory over Nebraska in the Rose Bowl. Many teams soon adopted the T-formation, and the role of the quarterback changed forever.
A two-time Stanford All-American, a star for the original San Francisco 49ers and a member of the College Football Hall of Fame, Albert died September 4, 2002, in Menlo Park of complications from Alzheimer's disease. He was 82.
Born in Chicago in 1920, Albert attended high school in Glendale, Calif. Never more than 135 pounds as a youth, he played only one year of varsity football—and led Glendale to a divisional championship.
While he blossomed as a quarterback under Shaughnessy, Albert also was an accomplished defensive back and kicker. He still holds the Stanford record for longest punt: 79 yards.
Albert served four years in the Navy during World War II and then returned to the Bay Area, where local businessman Tony Morabito was organizing a fledgling professional football team known as the 49ers. Albert was the first player signed by the new team, which began play in 1946 as part of the All-American Football Conference. Two years later, he shared the league's Most Valuable Player award with Otto Graham of the Cleveland Browns. Buoyed by Albert, the 49ers were admitted to the National Football League in 1950.
Albert later spent one season playing for the Calgary Stampeders of the Canadian Football League, then was hired as an assistant coach by the 49ers in 1955 and elevated to head coach in 1956. He compiled a 19-17-1 record in three seasons.
After football, Albert dabbled in real estate and helped raise three daughters, all of whom attended Stanford. Jane Albert Willens, '67, herself an All-American tennis player at the Farm, says her father was both mischievous and gentle. "I was eager to get up every morning because he was so much fun," she says. "He always had a trick up his sleeve, was always teasing, but underneath was real kindness."
Diagnosed with Alzheimer's four years ago, Albert remained a charismatic and spirited person, says Willens. "He still had that twinkle."
Albert is survived by his wife of 60 years, Martha, '42; three daughters, Willens, Nancy Albert James, '65, and Terry Albert Levin, '74, MA '81; and seven grandchildren, including Heather Willens, '93, JD '97, and Jake Willens, '99, MA '00.