David Feldsott '08 Elected Brother Beta
of Delta Psi Chapter of DKE
---
David E. Feldsott, a junior at Indiana University, has been elected President of the Delta Psi chapter of Delta Kappa Epsilon, a 38-man social fraternity founded at I.U. in 2000. He is the son of Stuart John and Cheryl Ruth Feldsott of Rockville, Maryland.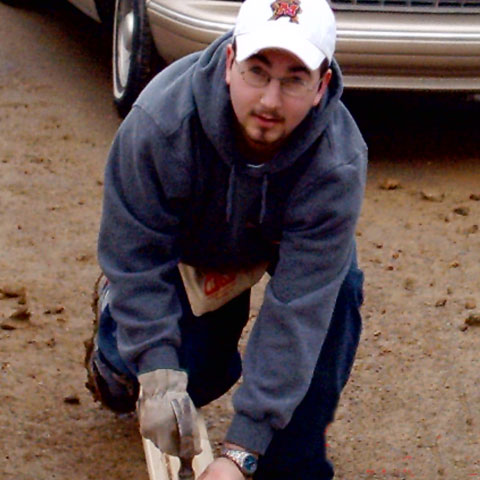 Dave Feldsott participating on a
Habitat for Humanity work site.
An active participant in the fraternity, Feldsott has served on the budget, judicial, ritual, and standards committees. He has been the chapter's scholarship chair, creating the Academic Assistance Plan which is in place to help brothers achieve higher grades. After its creation, the chapter GPA rose from a 2.4 to more than a 2.9.
Feldsott also has served on the chapter's executive board twice, as recording secretary and vice president. As recording secretary, he revamped, updated, and wrote much of Delta Psi's current chapter constitution. As vice president, he organized the fall 2006 rush budget and schedule. He oversaw many of this fall's events, continuing Delta Psi's emphasis on service to its community via trail clean-ups, sorority philanthropies and work projects, and participation in Habitat for Humanity's Rake-A-Thon.
Feldsott is a strong proponent of chapter involvement in Indiana University events. Delta Kappa Epsilon was the lone representative of the Greek community in I.U.'s Yell Like Hell event during Homecoming festivities. As President, he will lead a seven-man executive board, hold responsibility for university and alumni relations, and oversee the efficient operation of the chapter.
A graduate of Richard Montgomery High School, where he lettered in lacrosse and was a direct admit to I.U.'s Kelley School of Business, Feldsott maintains a 3.63 GPA as a finance major at Indiana University, with a minor in entrepreneurship. He has been a member of the Dean's List every semester at I.U. and is a member of multiple honorary societies, including Phi Eta Sigma and the National Society of Collegiate Scholars.
On November 14, 2006, Feldsott won the Greek Member of the Year Award, presented to one member of I.U.'s nearly 5,000-person Greek community. The award is presented to the person who has contributed the most to their own fraternity/sorority and the Greek community as a whole.
Feldsott's job experience includes waiting tables for T.G.I. Friday's restaurants, refereeing soccer games for children and adults, as well as working as a customer service representative for Galyans/Dick's Sporting Goods. Being an entrepreneur since early childhood, David has worked on numerous start-ups, including a landscaping company and also a web design/hosting company.
Feldsott will serve as chapter president until December, 2006. In 2007, from January to April, he will study in London while completing a financial analyst internship placement. During summer, 2007, he hopes to land an internship for a large financial consulting or investment banking company.
Delta Kappa Epsilon is a social fraternity founded at Yale University in 1844. More than 70,000 men have been initiated into DKE, including newspaperman William Randolph Hearst, financier J.P. Morgan, Senate Majority Leader Henry Cabot Lodge, Yankees' owner George Steinbrenner, Composer Cole Porter, Chase Manhattan's Irving Chase, Proctor and Gamble's James Gamble, and the Wrigley Company's William Wrigley. Four current U.S. congressmen and four current state governors are members of the fraternity, as are five presidents of the United States. Rutherford Hayes, Theodore Roosevelt, Gerald Ford, George H.W. Bush, and George W. Bush have been active members.
October, 2006