Spring rush draws larger crowds than '05
Fraternities usher 135 men; up 40 from last year
By Ashley Rhodebecks | Indiana Daily Student | Monday, January 23, 2006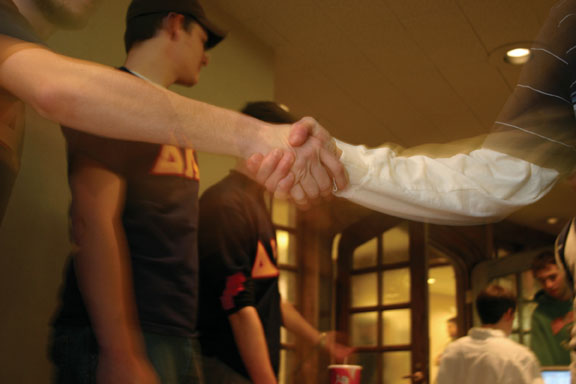 Members of Delta Kappa Epsilon meet with

potential members during menís spring fraternity recruitment Friday afternoon in the

Frangipani Room of the Indiana Memorial Union. Recruitment resumed Sunday with house tours.

Grace Lows ē IDS

Despite the 40-degree temperature Sunday afternoon, fraternities propped open their doors, inviting potential members to tour the houses and socialize with current members.

This followed Friday's start to spring rush, which let interested men scope out each of IU's 25 fraternities in the Indiana Memorial Union Frangipani Room. The event attracted 135 men, 40 more than last spring's turnout, said Taylor Hougland, Interfraternity Council vice president for recruitment.

Though Friday's event was successful, Sunday's open houses attracted fewer men because rushees aren't required to visit each house as they are in the fall.

Despite the traditional lower numbers expected during spring rush, Pi Kappa Phi members took time to ready the house for the day's guests.

"I've been up since 9 a.m. to get the house looking good," said A.J. Todd, vice president of Pi Kappa Phi.

Within the first two hours of the open house, only a handful of men had taken tours.

Freshman Kevin Chinn toured the house Sunday but had also visited it Saturday night. Although he's considering a few other fraternities, he hasn't crossed Pi Kappa Phi off his list yet.

"I really like this house a lot," Chinn said. "The house was really clean and really nice-looking, which is something you don't see a lot."

Aside from the house's aesthetics, Chinn said he likes that the members of Pi Kappa Phi treat their pledges the same way they treat their brothers and that it's possible to balance academics and pledging.

For most men, the main attraction toward fraternities is brotherhood.

"I want to join a fraternity because I want to meet new people," Chinn said. "I come from a very small town where everyone knows each other, and I came here and it was a big culture shock."

Freshman Brian Luth also toured Pi Kappa Phi. He said he wants to make new friends and is considering Pi Kappa Phi because he already knows some members.

For freshman Steve Poremba, joining a fraternity runs in the family: both his father and brother were in one.

"As I started looking at the houses, like at the Pi Kaps, I learned a lot about brotherhood," Poremba said. "I think that's the biggest part right now."

Both Poremba and Luth took advantage of the casual atmosphere at Pi Kappa Phi by watching a football pre-game show and discussing last week's games with the fraternity's rush chairs.

While men at Pi Kappa Phi tuned into sports, Chi Phi rush chair Brian Clark worked on a laptop in his room because he was expecting very few men for a house tour.

Men who go through spring rush usually know which house they want to join, so Chi Phi meets those interested and invites them to the house to get to know them, Clark said.

Fraternities without houses held their open houses in the IMU and experienced a similar slowness Sunday.

Five men listed their names on the Kappa Delta Rho interest sheet Friday, but member Seth Rosen said he's not sure if the fraternity will ever see those men again.

"They'll say, 'They're just a small group of guys with no house. Why would I want to join?'" Rosen said. "But we're a good group of guys who do as much as the other fraternities."