Chapter hosts first
Academic Achievement Banquet
---
Nine brothers share $4,000 in Ruby Cup Foundation scholarships
Brendan McPherson '05 named first Jackson Scholarship recipient
John Luther Jackson '89, entered college in 1885, less than 20 years after Psi Phi's founding. His younger brother Emmett Jackson, entered in 1886 and graduated in 1900. Emmett had a son, Emmett Jr., in Psi Phi's Class of '38. Emmett had a daughter, whose son, Jackson Phelps, was in Psi Phi's class of 1950. John had a son, John, in Psi Phi's Class of 17.
In 1991, Psi Phi honored that John Jackson as its oldest living alumnus with a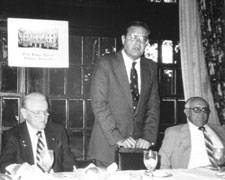 At Psi Phi's 125th anniversary celebration in 1991, John Jackson (left) was honored as the chapter's oldest living alumnus. Deke International Executive Director Duncan Andrews, Rho '57, was the keynote speaker at the dinner in John's honor. Pete Jackson, John's youngest son, is seated at right in this photo taken in the dining room of the Deke House.
banquet at the house. His two sons, John Jr. '42, and Peter '44, also Psi Phi Dekes, attended.
Peter Jackson was the seventh man in his family to attend DePauw and to pledge Deke. He was the third generation of Jackson men to join our fraternity. Clearly, the Jacksons believed in what it means to be a Deke.
Pete should have graduated in 1941, but he enlisted in the Army after his freshman year at DePauw and served three years in the South Pacific during WWII, specializing in chemical warfare. He returned to DePauw after the war and completed his degree. His professional career was in sales, and he retired in 1985, in Sturgis, Michigan, where he had worked for the previous 25 years. Pete had a good retirement of nearly 25 years. He died in 2003.
Pete returned often to fraternity events, he kept in touch with me and several other older Dekes who were involved in the life of Psi Phi, including Gordon Sayers, and we'll talk about him in a minute.
The Jackson family had an incredible legacy with the fraternity, and with the DePauw chapter they are one of five families who have had three generations of men pledge and graduate.
Pete and his wife, Betty, have no children, but to show how important the idea of "legacy" is to the family, Pete and Betty will leave 10 percent of their estate to each of eight nieces and nephews, five percent to a local charity in Sturgis, where Betty continues to live, and 15%, the largest single amount, to the fraternity. The total gift to the fraternity should be between $125 – 150,000.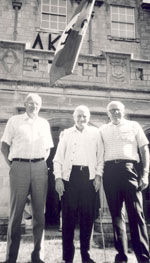 John Jackson Jr. '42, John Jackson Sr. '17, and Pete Jackson '44 on the front lawn of the Deke House during the chapter's 125th anniversary celebration in 1991.
While the Ruby Cup Foundation won't receive Pete and Betty's gift until Betty's passing, she agreed to begin the naming of a "Jackson Scholar" now. In years to come, the Jackson Scholar, or Jackson Scholars, could receive a full-ride scholarship covering all room and board in the Deke for all four years.
Betty Jackson wanted to begin the scholarship now, because she has learned Delta Psi has several solid leaders, whose contribution to the chapter need to be recognized with more than a "thank you." She said "Pete would have enjoyed getting to know those young men, I'm sure."
The Ruby Cup Foundation wanted to begin awarding the scholarship in order to prove we can gaze into the crystal ball and pick a winner. It will be fun, in 25 years, to read through the list of Jackson Scholars and see what those men, you men, have become—how you have used your lives. Our guess is, it will be an amazing list of accomplishment, and maybe in 25 years we all can meet back here on campus to celebrate that, and to realize that, to some extent, it began here with lessons of leadership learned, or honed, at the Deke House.
The 2005 Jackson Scholar will receive a $2,000 scholarship. In future years, the scholarship will be in the form of a reduction, or elimination, of the housebill. Since the first Jackson Scholar is a senior now, and since the school year is almost over, the scholarship is a check to be used how he chooses. But it most likely will be for law school, or for future ventures in real estate in the state of Kansas. On behalf of Betty Jackson, the Jackson family, and the Ruby Cup Foundation, I am honored to announce the first man to grace what hopefully will be a long list of remarkable men, is Brendan McPherson.