Vince Marshall '08 Elected Brother Beta
of Delta Psi Chapter of DKE
---
Vince Marshall has been elected president of the Delta Psi chapter of Delta Kappa Epsilon (DKE), a 40-man social fraternity chapter founded at Indiana University in 2000. Marshall will be the first chapter president whose term will span two-semesters instead of one.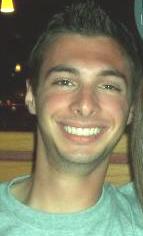 Vince Marshall '08, elected Delta Psi chapter president Nov. 29, 2006.
Marshall joined DKE as a freshman. He has served as the chapter's risk manager, recruitment chair, and as a member of its judicial board. As president, he will be responsible for university and alumni relations and will oversee an eight-man executive committee charged with the financial management and efficient operation of the chapter, one of 45 chapters of DKE in the U.S. and Canada.
"Some of my goals for the semester include a formal dance for the chapter. I hope we can get a team qualified to race in Little 500 this season because I feel it will strengthen morale in the chapter. DKE is planning on adopting the Harmony School, providing it with all the manual labor needed to make some improvements. I will be starting the year-end tradition of having a chapter composite created," he said.
"Since I am a realist, I am not making goals of rushing 20 guys in the spring, but I think we can get 10 at most and I would be happy. I also would like our chapter to move up in the Greek GPA ranking, maybe not to the top, but at least not dead last.
"Coming back on campus, in a traditional fraternity house, is something I would like our chapter to do someday, but it will not be during my term as president. I plan on starting the habit of putting a percentage of funds in a savings account so that we can start saving. I want our members to be proud of our chapter. I want them to be able to wear letters confidently. I would like DKE to be recognized and respected on campus. We will be paired with sororities for several events this semester and next, and I would like to establish and maintain relations with them. Though we are a smaller off-campus chapter, we would like to still have a strong name in the Greek system."
A junior, majoring in criminal justice and maintaining a 3.2 cumulative GPA, Marshall is the son of Jan and Murray Marshall of Indianapolis. He intends to pursue a career in federal law enforcement after graduating from I.U., and to prepare for that, he has held summer positions with ESG Security, Inc. in Indianapolis, the Indiana Department of Environmental Services, and with University Plastic Surgery Associates, where he assisted in the burn unit at Wishard Hospital. He also has participated in "ride alongs" with members of the Indianapolis Police Department and has shadowed doctors at Methodist Hospital.
A graduate of Brebeuf Jesuit Preparatory High School, Marshall was active in rowing crew at the Indianapolis Rowing Center. Also active in community service and Republican politics, he was a summer intern for the Brose McVey Campaign for Congress and a volunteer for the Todd Rokita Campaign for Secretary of State. He worked on a construction project in Harlan County, Kentucky, as part of the Appalachia Building Project, and he is active on the I.U. campus, and in Bloomington, in community service work. I.U.'s DKE chapter adopted a walking trail in Bloomington, and the members regularly spread mulch, pick up trash and perform other service to maintain it.
Marshall will serve as chapter president through December, 2007. Delta Kappa Epsilon is a social fraternity founded at Yale University in 1844. More than 70,000 men have been initiated into DKE, including newspaperman William Randolph Hearst, financier J.P. Morgan, Senate Majority Leader Henry Cabot Lodge, Yankees' owner George Steinbrenner, Composer Cole Porter, Chase Manhattan's Irving Chase, Proctor and Gamble's James Gamble, and the Wrigley Company's William Wrigley. Four current U.S. congressmen and four current state governors are members of the fraternity, as are five presidents of the United States. Rutherford Hayes, Theodore Roosevelt, Gerald Ford, George H.W. Bush, and George W. Bush have been active members.
November 29, 2006