From the 25th publication
of the Yale College Class of 1846
~ Published 1871 ~
Henry Case was born in Norwich, Conn., November 19, 1823, the son of Deacon Samuel, of the First Church in that town, and Sally (Bailey) Case.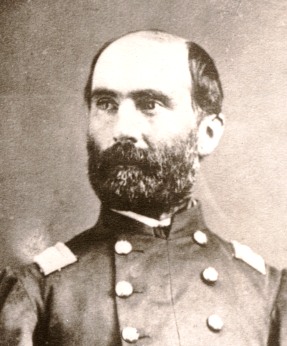 Henry Case, in his Union Army uniform circa 1863.
Portrait discovered July, 2008 by
Grant Burnyeat '65, Phi Alpha / UBC
He fitted for college at the Bacon Academy, Colchester, Conn., Rev. Myron N. Morris, Preceptor, and entered with the class, having J.W. Backus for his roommate through the four years at Yale. After graduating, he studied law in Norwich, began successfully its practice at Winchester, Ill., then removed to Middletown, Conn.
Subsequently he studied theology at New Haven and elsewhere, and was ordained at Norwich, July 31, 1855. The sermon on that occasion was preached by the Class Secretary. He went immediately to Ohio, and was stated preacher first at McConnellsville and afterwards at Cuyahoga Falls. After some years, he resumed the practice of law.
At the breaking out of the war, he enlisted as a Union soldier and served with the 14th Illinois, the 7th Illinois Cavalry, and the 129th Illinois where he achieved the rank of Colonel in May 1863. He served four years, and accompanied Sherman on his march to the sea. He was brevetted Brigadier General, U.S. Volunteers. On the return of peace, he again opened his office at Jacksonville, Ill.
A friend writes, "He came near being elected to Congress before the war. He made a grand officer, and was brevetted Brigadier General since the war. Is a confirmed bachelor." No answer to the circular. P.O. Address, Jacksonville, Ill.
From the 1910 DKE Catalogue
B.A., M.A., Yale College
Founder, DKE
Jr. Ex. Speaker
Phi Beta Kappa
Commencement Speaker
School Principal, Lyme, Connecticut 1846-47
Law Student, Norwich, Connecticut, 1847 -
Lawyer, Winchester, Illinois and Middletown, Connecticut
Yale College, Department of Theology, 1853-55
Pastor of churches in McConnellsville and Cuyahoga Falls, Ohio, 1855 - 63
Bvt. Brigadier General, March 16, 1865
Lawyer, Jacksonville, Illinois 1866 -
Lawyer, Norwich, Connecticut
Deceased: March 12, 1884, Norwich, Connecticut