John Geary chairs Deke Parents Association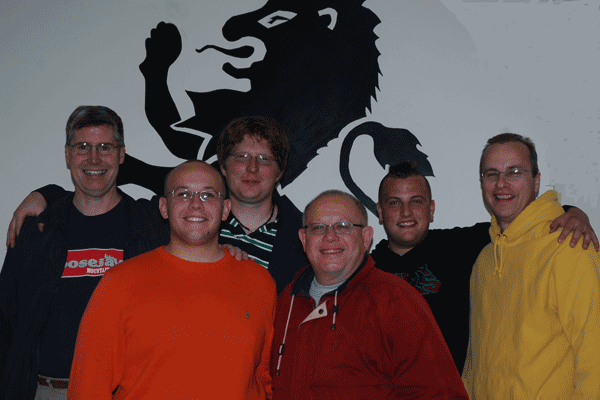 John, back row at right, with his son Mike and two other dads
with their Deke sons who participated in the 100-Hour Day in April.
The integration of Deke at Indiana, Illinois and DePauw took another step this spring when John Geary
agreed to chair the Deke Parents Association. A 1982 Delta Pi Deke, John and his college sweetheart, Sandy, who will celebrate their 23rd wedding anniversary next month, are the parents of Jackie, 17, and Mike, 18. Mike pledged Deke at I.U. last fall and will return this fall as rush chairman.
John spent most of his life in the Chicago area, but is now the Roofing System Solutions Manager for Firestone Building Products Company. Based in Carmel, Indiana, his department acts as the technical voice of Firestone, responsible for design and application guides, details, project review and warranty administration. Prior to this assignment, John was the Insulation Product Manager and an instructor at Firestone's Building Products University.
Holding a B.S. in marketing from the University of Illinois, John is Chairman of the Industry Promotion Committee for the Polysocyanurate Insulation Manufacturers Association. He also has been involved in the development of the EPDM Roofing Association and remains active in technical and marketing issues for this organization. He also is a member of the NRCA's Energy Awareness Task Force.