Lamar University and the Beaumont Foundation of America have announced the fourth of nine Southeast Texas Legends Scholarships – this one honoring the late Joe Tonahill, the larger-than-life legal giant who, coming from humble beginnings, made it his life's work to be a "people's lawyer" – though earning international acclaim along the way.
Tonahill distinguished himself as a co-founder of trial lawyers'organizations, as a pioneer in worker protection, product liability and jury reform and in countless other areas. He practiced law in Jasper more than half a century, but tried cases across the country, earning a reputation as "a rare breed . .. an imposing figure . . .a giant of a character . . . a legend in the legal profession," according to colleagues, family and friends.
The $100,000 Southeast Texas Legends-Joe Tonahill Scholarship will assist under-served individuals who attend Lamar, President James Simmons said at a ceremony and news conference Tuesday, April 3, 2007, in the University Reception Center of the Mary and John Gray Library.
"Joe Tonahill was larger than life, in spirit, generosity and character as well as in stature," Simmons said as family and friends joined officials of the Beaumont Foundation and the university at the event. "It is appropriate that this scholarship bear his name, for Joe Tonahill spent his life helping people. This generous gift will enable the name of Joe Tonahill to endure in the lives of students pursuing the dream of higher education."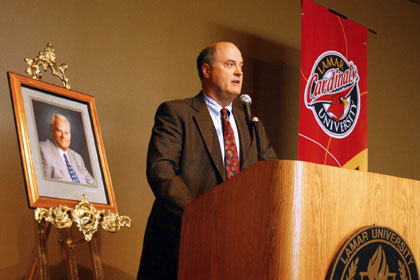 Lamar University President James Simmons announced the $100,000 Southeast Texas Legends-Joe Tonahill Scholarship
at a ceremony and news conference Tuesday, April 3, 2007.
The scholarship will assist under-served individuals who
attend Lamar.
Tonahill, who died Nov. 6, 2001, at the age of 89, also leaves a larger-than-life legacy.
"They threw away the mold when they made Joe Tonahill," said Robert Parker, a longtime U.S. district judge who retired in 2002 as an appellate judge. He was speaking in a taped tribute when Tohahill received the 1994 Champion of Justice Award at the American Trial Lawyers Association Stalwarts Banquet in Chicago.
"Joe Tonahill didn't know how to think little. Joe thought big," said protege and friend Gilbert "Buddy" Low, a trustee of the Beaumont Foundation. "Joe helped mold the lives of a lot of people . . . He took friendship to the nth degree, and it was the finest friendship man ever knew."
"Joe was an unusual lawyer, one of a rare breed who could try almost any type of case," said his son-in-law, Richard Hile, an Austin lawyer and Lamar graduate who practiced law with Tonahill from 1975 to 1992 in Jasper. "There were no limits on Joe's practice or his imagination."
"He was larger than life. Not only because he was tall (6 feet 5), but also in his personality," said granddaughter Grace Nichols, who practiced law with him for the last 2 ½ years of his life. Tonahill, and his wife, Violett, had six children, 10 grandchildren and three great-grandchildren.
What makes Joe Tonahill a legend?
"It's not because of Jack Ruby," said his eldest daughter, Mildred Elmore of Beaumont, referring to what was probably her father's most famous case.
"It is the way he treated people, his clients especially," said Elmore, a longtime teacher who has two degrees in English from Lamar. "He did not meet a stranger, and he put himself the same level of the person he was talking to. He did not put on airs . . .He was country, but he was brilliant in the courtroom.
"He helped the little man, because he was one originally. He grew up poor. He had nothing as a child because he grew up in the Great Depression."
And, she added, "He was funny. He had quite a sense of humor, and he was a prankster."
According to Low, "He is a legend in making so many differences in various areas of the law, in friendship, in helping people, in the way he thought and acted."
In response to the scholarship, Hile said: "This is something he would be humbled by and be appreciative of because Joe was always trying to help those who are less fortunate."
Elmore said her father anonymously helped countless families with jobs and scholarships.
Tonahill "knew everybody – people from all walks of life," Nichols added. "He would get coffee every morning at the McDonald's by his house. He knew the girl who worked there and her whole life story. He would remember people – their names and their struggles."
In legal circles, as in life, Tonahill was a giant, well known across the country and beyond.
He joined the American Trial Lawyers Association in 1946, when it had just 200 members and went on to co-found Texas Trial Lawyers Association, which he served as president, as well as the National Association of Criminal Defense Lawyers, International Academy of Trial Lawyers and International Society of Barristers. The Southern Trial Lawyers Association honored him with its War Horse Award. An organization bearing his name – the Tonahill Society – meets once a year to honor him. He also is the namesake of several awards and honors.
"He was such a giant of a character. He would fill up a room as soon as he walked in," said his son Joe Tonahill Jr., a Realtor in Vail, Colo. "He worked hard on his cases and seemed to take them very personally. He tried an amazing number of cases. He lived the law and breathed it."
Indeed, for 10 to 15 years, Tonahill tried 50 to 60 jury cases a year, he estimated in a 1998 interview. He tried cases in Texas, Louisiana, Arkansas, Alabama, Colorado, Wyoming, California and New York – as well as before the U.S. Supreme Court.
"I always hated to see my cases end because the experience was so exhilarating," he said in the interview. "I loved the idea of trying cases."
Tonahill never used experts in jury selection, and he tried most of his cases alone. A notable exception came in 1963. Tonahill was quail-hunting with friends at his lodge on the Neches River when he received a call from flamboyant San Francisco lawyer Melvin Belli, who had been his friend and colleague for 25 years. "He told me the Ruby family wanted him to defend Jack Ruby and that he would on one condition – if I came in as chief Texas legal counsel."
Eventually, Tonahill agreed, and he remained loyal to Ruby even after the family tried to dismiss him from the case. "I told them I wasn't getting out of it because this man was facing the death penalty and I had guaranteed him I would go with him all the way to the U.S. Supreme Court," Tonahill said in the 1998 interview. "I was going to keep fighting because I knew this man was ill."
Ruby's conviction was reversed on appeal, and, said Tonahill, "The judge who wrote the opinion complimented me very highly."
"It was a fascinating case, a hard case," he said. "I met a lot of interesting people."
Joe Tonahill was born Nov. 4, 1913, in Hughes Spring, Cass County, Texas. The family also lived in Linden, Texas; Birmingham, Ala., and New Orleans, La., before moving to Beaumont and then to Port Arthur, where Tonahill graduated from high school in 1932. His father was an early inspiration to study law, he said.
Tonahill had all kinds of jobs, and one of them was to change his life forever.
After graduating from high school, he worked three years in the oilfields. When he was 18, a fire erupted on a discovery well, and he sustained severe burns on his face and hands. "I nearly burned to death," Tonahill said.

"That impacted his view of life and his view of the profession," Hile said. "It gave him a deep appreciation for those who had been less fortunate, especially those who had been injured. It shaped his life forever."
In 1935, Tonahill enrolled at the University of Texas to study pre-law. It was there that he met his life-long best friend, the late U.S. District Judge Joe Fisher, who was his roommate and big brother in Delta Kappa Epsilon fraternity. The two vowed to become law partners someday.