Cole Porter, Phi '13, Receives Star on Hollywood Walk Of Fame

May 21, 2007: Legendary songwriter Cole Porter posthumously received the 2,338th star on the Hollywood Walk of Fame today, 43 years after his death, at the beginning of a weeklong musical tribute at the Hollywood Roosevelt Hotel.
The ceremony was held at 11:30 a.m. at 7080 Hollywood Boulevard, between Sycamore Avenue and La Brea Avenue. Those attending included the family of Porter as well as cabaret performer Mark Nadler. The latter saluted Porter with a musical tribute at the ceremony. Other guests reminisced about the late composer.
Cole Porter wrote more than 1,500 songs, including such American standards as "Begin the Beguine," "In the Still of the Night," "It's De-Lovely," "Too Darn Hot," "All Through the Night," "Ev'ry Time We Say Goodbye," "I've Got You Under My Skin," "Anything Goes," "Just One of Those Things," "Night and Day" and "You've Got That Thing."
Joey Cole Kubesh, a cousin of Porter, accepted the star on his behalf. Gretchen Wyler, who originated the role of Janice Dayton in Porter's 1955 Broadway musical "Silk Stockings," and Irwin Winkler, who directed and produced the 2004 film biography of Porter, "De-Lovely," joined Kubesh in speaking.
Porter was born June 9, 1891 in Peru, Indiana. His mother, Kate, fostered his musical genius at an early age by enrolling him in violin and piano lessons. He wrote his first composition, "The Song of the Birds," when he was 10 years old.
At Yale University, where he was initiated into DKE's Phi chapter, Porter wrote the scores to many student shows. His football songs, "Bull Dog" and "Bingo Eli Yale," are still sung at the university. He also wrote "A Football King" (a.k.a. "If I Were Only a Football Man"). The original title was intended for the initiation play "The Pot Of Gold" for Yale's Deke chapter, but it wasn't used, so he revised it and sang it with the Yale Glee Club during his senior year (1912-13), when he served as the club's president.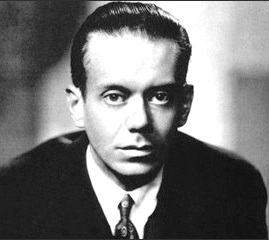 Cole Porter, Phi '13
After Yale, and after initially failing on Broadway, Porter moved to Paris in 1917. He spent most of the 1920s there, living in luxury off his and his wife's family's money and writing music.
Porter returned to Broadway in the late 1920s, when at the urging of Irving Berlin, he wrote the full score to the show "Paris," his first Broadway hit, which included "Let's Do It, Let's Fall In Love" and "Let's Misbehave."
In the 1930s, Porter wrote for Broadway and films, including songs like "Night and Day," "You're the Top," "Begin the Beguine," "Don't Fence Me In" and "Love for Sale." Some of his more familiar scores from this decade include "Anything Goes," "The Gay Divorcee" and "Jubilee."
In 1937, a riding accident left Porter in constant pain, However, he continued to create memorable songs like "Every time We Say Goodbye," "My Heart Belongs to Daddy" and "Friendship." His masterpiece, which won the first Tony Award for best musical, "Kiss Me, Kate," opened in 1948, followed by such shows as "Can Can" and "Silk Stockings."
Porter's right leg was eventually amputated in 1958 and he never wrote again. He died on Oct. 15, 1964, in Santa Monica at the age of 73 from kidney failure.
After the installation of Porter's Star on the Hollywood Walk of Fame, the celebration of his life and accomplishments continued during an evening event. In a Hollywood nightclub, the musical duo KT Sullivan and Mark Nadler performed for a crowd of veteran Broadway and Hollywood stars, some of whom knew and worked with Porter.
The actress Anne Jeffreys remembers Cole Porter for his clever, sophisticated lyrics and beautiful music. She spent two years on the road with the national company of Porter's hit musical "Kiss Me Kate."
Betty Garrett got her big break on Broadway in the Cole Porter show "Something for the Boys," and says she was in awe of the great composer. She says that Porter was quick to change something that was not working out. She recalls how he changed a song that came in the second act of the play, as the heroine was in a railroad station. "And I was sitting on my suitcase singing very sadly, 'So long, San Antonio. Too bad we had to part.' Well, the audience fell asleep, it was so slow and so sad. So naturally Cole had to write another song for me," she said.
Porter asked her what kind of music she liked. She said traditional folk songs and boogie woogie, a lively form of jazz that dates to the 1920s. Within two hours, Porter had created a composition with elements of both. It arrived at her hotel room in an envelope.
"And in it was this song that went, (singing) "I'm in love with a soldier boy, so in love with a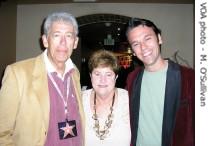 (from left) Dan Roberts, Joey Cole Kubesch, Ward Roberts
soldier boy." Ethel Merman also sang the song, and Betty Garrett says it was a show-stopper whoever sang it.
A distant cousin, Daniel Roberts, came from Indiana to Hollywood for the celebration. He recalls meeting the songwriter, who returned to his hometown when Roberts was a teenager in 1952. "And he was just so nice, so warm. He just had gentle class. Just a wonderful man," he said.
Daniel's son, Ward Roberts, never met his famous relative, but has grown up with Cole Porter's music. "Absolute standards. A lot of people probably hear his songs once or twice a day and might not even know it. But you go in to get a cup of coffee, and a lot of times you're going to hear Frank Sinatra singing a Cole Porter song. It's great," he said.
Cole Porter has been credited with writing some of the funniest, catchiest, and most romantic songs ever written for Broadway, including many that live on as part of America's musical heritage.