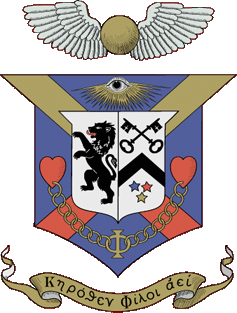 News
For an index of articles on the
Phi Chapter,

December 1, 2005
Cartoon on Bush recalls Yale frat hazing
BY KIMBERLY CHOWS AND JACK MIRKINSONS
Contributing Reporters
Cartoonist Garry Trudeau '70 said he thinks a little-known fact about President George W. Bush '68's past -- that his first mention in The New York Times occurred in 1967 when, as former president of the Delta Kappa Epsilon chapter at Yale, Bush defended the fraternity's practice of branding its pledges with a red-hot coat hanger -- deserves more national attention.

On Sunday, Trudeau's cartoon "Doonesbury" featured fictional character Mark Slackmeyer explaining the President's position against current anti-torture legislation by revisiting a series of 1967 Yale Daily News articles that exposed DKE's rush activities, which at the time included brandings and alleged beatings. Soon after these stories were published, the University's Inter-Fraternity Council fined the fraternity for performing "physically and mentally degrading acts," and the Times published an article in which Bush defended the brandings, comparing them to cigarette burns.

"At the time, it caused quite a stir on campus, even generating some national attention," Trudeau said.

The News article, published Nov. 3, 1967, featured a photograph of a half-inch high "D" burned into a pledge's naked backside. Trudeau drew his first cartoon for the News for the story -- a picture of smiling pledges, naked and bent over at the waist, with a figure holding a DKE branding iron standing over them.

In a News story the next day, Bush is quoted calling the branding "insignificant." He said he did not understand how the News "can assume Yale has to be so haughty not to allow this type of pledging to go on."

Trudeau's recent cartoon comes on the heels of the controversy over Sen. John McCain's Anti-Torture Amendment to the Defense Appropriations Bill. The amendment, which would outlaw torture and "cruel, inhuman and degrading treatment of detainees in U.S. custody," passed in the Senate 90-9 on Oct. 5, but Bush has threatened to use his first-ever veto on the bill if McCain's provision is included in the final passage.

Trudeau said he drew parallels between Bush's connection to fraternity hazing and his national policy today because he feels that it reveals a lot about the President's philosophy.

"While you can't draw a direct line between a 19-year-old's fraternity activities and national policy … this is part of a larger picture of this administration's belief that the ends justify the means," Trudeau said. "I don't think [Bush] gives much thought to what it means to torture people or how it makes us look in the eyes of the world."

The 1967 Yale Daily News article provided a look into the covert hazing practices of fraternities in general, but focused on the DKE branding. Some pledges at the time told the News their branding was preceded by a physical beating.

"By that time, my body was so numb [from the beatings] that the iron felt good, like a match was being held close to my body," an anonymous DKE pledge told the News in 1967.

While the article provoked outrage in the Greek community, most of those who complained expressed anger that fraternities' reputations were being called into question, though few charged that the story was fabricated.

"Once the article came out, nobody denied its truth," Trudeau said. "It became simply a question of characterization."

But in a 1967 letter to the News, Collister Johnson '68 -- who recently served as Bush's Ohio campaign manager and national field director during the 2004 presidential election -- wrote that the article contained "embellished facts" and "smacks of sensationalism." Johnson could not be reached for comment yesterday at his home office in Virginia.

Albert Evans '68, a college acquaintance of Bush's and the president of the Inter-Fraternity Council in 1967, said the majority of DKE's rush activities at the time were performed in the spirit of good fun and camaraderie.

"What DKE was doing was clearly outside the rules, and they were sanctioned for that," Evans said. "At the same time, it wasn't of the order that somebody was killed."

Although he was quoted by the News at the time as saying that the branding was "not as bad as it sounds," Evans said he disapproved of the practice when it was revealed.

"My personal reaction was, 'I can't believe they'd do that,' but not, 'Why aren't these people being expelled?'" Evans said. "We all did something in our four years we're just as glad wasn't reported in the Yale Daily News."

The White House did not respond to requests for comment before press time.