Top Political Connections Abound For
FedEx Founder, CEO
ANDY MEEKS | The Daily News
He founded one of the most well-known corporate brands in the world, an international package delivery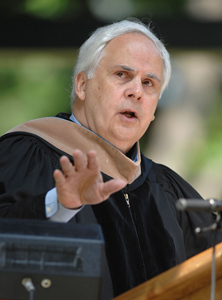 AT THE FOREFRONT: FedEx founder
Frederick W. Smith has been floated as
a possible cabinet member if Republican
Sen. John McCain is elected president
in 2008. Smith is shown here delivering
the University of Mississippi's
commencement address May 12.
-- ROBERT JORDANS
service that raked in $32.3 billion in revenue last year.
So why not, at least one current presidential candidate recently has wondered aloud, give FedEx founder Frederick W. Smith a shot at helping steer the federal government's massive, often unwieldy ship of state?
At an East Memphis fundraiser last week, Sen. John McCain, R-Ariz., told supporters he thought Smith would be a valuable addition to the presidential cabinet he'd assemble if elected in 2008.
What might have gone unnoticed to many Memphians is this: McCain's remarks at The Crescent Club only hinted at a side of Smith's life story that his unparalleled business success can easily overshadow.

Switching sides?
That side of the Memphis entrepreneur relates to his personal history with a host of political figures, which collectively reads like the resume of a head of state.
One of those figures is former U.S. Sen. Jim Sasser, for whom Smith served as campaign chairman in 1994 when the Democrat lost his seat to Republican Bill Frist and who has known the visionary FedEx executive for more than 30 years.
"I've known a lot of people, I've known a lot of presidents, and I would say that Fred Smith is one of the most extraordinary and influential men of his generation," Sasser said by phone from his Washington home. "He is a person of really profound intellectual capability and also combines that with a lot of courage. Fred is a risk-taker. He only does things after thinking them through, and his risks are rational; they're not shots in the dark."
Sasser, who admitted he's never voted for a Republican before, said if McCain promised to name Smith to his cabinet - and to heed the businessman's advice - the Memphis-born politician would have no hesitation about casting his first-ever ballot for a Republican.

We all can be friends
Meanwhile, Smith's myriad public statements about such relationships reveal the significance of yet another perch he's occupied on the precipice of history.
"I've spent considerable time in various places around the world - after all, FedEx operates in 220 countries and territories, and it is a big part of my job to try and understand what's going on elsewhere," Smith said in May, speaking to the Ole Miss graduating class during the college's 154th commencement.
His ties to presidents, congressmen and scores of other world leaders help him do that. He met current President George W. Bush and former presidential candidate U.S. Sen. John Kerry, D-Mass., for example, long before the flight of the Dassault Falcon 20C plane that delivered the first FedEx package in 1973.
In past interviews, Smith has called Kerry one of his best friends from college at Yale University. Smith met the future Massachusetts senator as a sophomore. Both became members of the Yale Aviation Club, and flying together became one of their favorite pastimes.
In Douglas Brinkley's biography of Kerry, "Tour of Duty," he wrote that Smith and Kerry often discussed their futures during those flights. The tidbit conjures images of the man who's arguably the most visible business success story to emerge from Memphis listening to a young Kerry talk about, oh, maybe running for Congress someday, while both students fly off into the wild blue yonder.
In addition to Kerry, Smith's circle of friends at Yale included Richard Pershing, the grandson of famed World War I general John "Black Jack" Pershing. Smith also was a Delta Kappa Epsilon fraternity brother of Bush's, and the two since have kept in touch.
The latter connection may partly be responsible for Smith being touted as a possible secretary of defense nominee in Bush's first presidential term - a job that ultimately went to Donald Rumsfeld.

Far-reaching connections
The FedEx chairman, meanwhile, also is bound to McCain, Kerry and others by the common fate of having served in Vietnam. Smith was a Marine pilot and served two tours of duty.
He introduced McCain at the senator's lunchtime speech to the Economic Club of Memphis in April at the University of Memphis.
"Fred Smith and Sen. McCain have been friends for many years," said McCain campaign spokesman Tucker Bounds. "The senator has the utmost respect for Mr. Smith and considers his business to be among the great American success stories."
It would be almost impossible to tally the dignitaries, politicos and world leaders of all stripes whose lives have intersected with Smith's. He and former U.S. Senate Majority Leader Bob Dole, R-Kan., were the main fundraisers responsible for the development of a World War II memorial in Washington.
"When you look at what (Fred Smith has) done and the worldwide reach of the firm he's created out of his own mind, it's just mind-boggling," Sasser said.