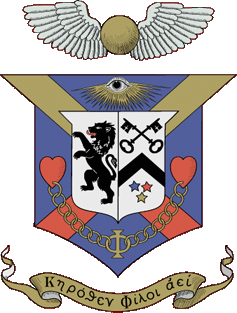 News
For the
Phi Epsilon chapter page, click here.

May 2, 2003
Delta Kappa Epsilon Adopts Second Squadron, Ships Items
What:
Delta Kappa Epsilon adopts second squadron, ships items
When:
May 5
Contact:
Eric Holland, president, Delta Kappa Epsilon,
(612) 703-0272
Paul DeBettignies, Northern Deke Alumni Board, (651) 644-3344
Paul Moore, University News Service, (612) 624-0214
MINNEAPOLIS / ST. PAUL -- The Delta Kappa Epsilon fraternity at the University of Minnesota, which recently finished its "Adopt a Squadron" project that collected an estimated $500 worth of items for a Marine squadron in the Middle East, will be shipping the boxes Monday, May 5. Originally the items were to be sent to Captain Eddy Hansen, a 1995 graduate of the University of Minnesota and a member of the Delta Kappa Epsilon fraternity, but they will now go to another squadron from his camp.
Two squadrons were sent from Camp Pendleton in California: the HMLA-267 Stingers, which Captain Hansen belongs to, and the HMLA-169 Vipers, which will be staying on in the Middle East.
"Because of the rapid success of the war in Iraq, Captain Hansen's squadron is returning home to Camp Pendleton," said Paul DeBettignies, advisor to the fraternity. "We are very happy for Eddy, his squadron and their families that they will soon be reunited. The intent of our effort was to support a fraternity brother and his squadron. With him coming home we will instead be helping out Eddy's Marine brothers and sisters in the Viper squadron."
Delta Kappa Epsilon, also known as the Dekes, acknowledges the following student groups for their help in the effort: sororities at the university including Alpha Sigma Kappa, Delta Gamma, Delta Delta Delta, Alpha Phi, Lambda Delta Phi, and Beta of Clovia; fraternities including Delta Tau Delta, Tau Kappa Epsilon and Sigma Chi; students at Sanford Hall; and the University of Minnesota ROTC.
"We also received contributions from Mail Boxes Etc., SilhouettEvents, Johnson Institute, DKS Systems, Deke alumni, and our parents," said Eric Holland, president of the fraternity. "The highlight may be the footballs from the Minnesota Vikings and the gloves and baseballs from the Minnesota Twins. We hope our packages will bring some relief to the men and women of the squadron. For all of the hard work they put in, it was the least we could do."
Delta Kappa Epsilon is a nonprofit, international men's fraternity founded in 1844 at Yale University. Its prominent alumni include five U.S. presidents, business founders, college and university presidents and publishers. It currently has 60 chapters across the United States and Canada. The Phi Epsilon chapter at the University of Minnesota has been active since 1889 and is the sixth oldest fraternity on campus. The campus has five buildings--Northrop, Vincent, Diehl, Middlebrook and Pillsbury--and a golf course--Bolstad--named after Dekes. For more national information, call 1 (800) 560-3353 or visit www.dke.org. For local information, call (612) 623-0427 or visit www.mndke.com.