From: DKE, University of Minnesota [mailto:dke@umn.edu]
Sent: Thursday, October 26, 2006 7:56 PM
To: Deke Alumni
Subject: Chapter update
To all alumni of the Phi Epsilon chapter of Delta Kappa Epsilon,
Hello brothers. My name is Matt Mountain and I am the current chapter President of Deke here at the U of M. Many of you may have read a message from me this past summer regarding the DKE International Convention. The fall semester is well underway and I just wanted to give you all an update on how things are going at the chapter.
As always the beginning of the year is all focused around recruitment. As many of you know our chapter has been small in the past few years so this fall's recruitment was very important to me and the other members. I am very proud to say that we closed our pledge class this week with a total of twelve members. This makes the largest pledge class at our chapter in over five
years. We also have a number of guys who did not accept but are planning to in the spring semester. The guys that we did get are all good kids and will no doubt learn to be great Dekes. Two of them have already moved into the chapter house and they are all very good friends even before their pledge quarter officially starts. Initiation is scheduled for December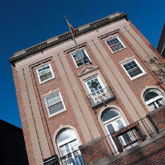 1st-2nd.

On September 24th we teamed up with Kappa Kappa Gamma to host a charity golf tournament at The Ponds Golf Course in St. Francis. A team of four Dekes took home the first place prize. Together we raised over $1000 for charity. Half of the money raised went to support the University of Minnesota Cancer Center, with which DKE has been working with the past couple years, and the other half went to support Reading is Fundamental, Kappa's national charity. We are already planning on hosting the event next year and we hope that many more of you can join us. Look for updates!

For those of you who follow Gopher sports, I am sure you remember the Michigan football game a couple weeks ago. As sad as the game was the weekend wasn't a complete downer. Five members of the Omicron chapter of DKE came to stay with us over the weekend. I heard "Hail to the Victors" a few more times than my stomach could handle, but I guess we deserved it for marching into the Shant singing the "Rouser" last year after we beat them in The Big House.

In the interest of keeping this short I will end by extending an invitation to all alumni and their families to stop by the chapter house whenever you can. The members love meeting you guys and hearing the stories from your days here. Deke is in a big up-swing right now and things are very exciting around here; we would love to have more alumni be a part of the chapter again. We all know that Deke is the best fraternity on campus and with your help we can make the rest of the U realize that as well.

See you next week for Homecoming!

Sincerely

Matt Mountain

_______________________________

Mathew James Mountain

President - Delta Kappa Epsilon

Phi Epsilon Chapter - U of M

612.718.6996