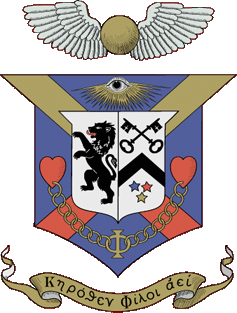 News
For the
Phi Epsilon chapter page, click here.

April 11, 2006
Making the Campus Your Own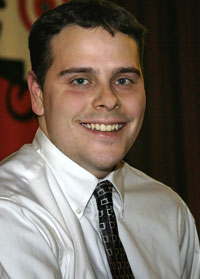 Tony Delich
B.A. 2004; economics, business minor from Carlson School of Management
Hometown:
Hermantown, Minnesota
Favorite CLA course:
Statistics 3011, Introduction to Statistical Analysis
Favorite hangout on or near campus:
Sally's
The best thing about being a student:
The large amount of free time
The best thing about being a CLA graduate:
Steady income
Favorite pastime:
Fishing and being outdoors
Would like a conversation with:
Johnny Cash
Favorite quote:
"In three words I can sum up everything I've learned about life: it goes on." – Robert Frost
Idea of a perfect weekend:
Relaxing by the lake with friends
In his work and his education, Tony Delich has not let size intimidate him. He earned his degree from the largest college in Minnesota's largest public institution and now works for one of the state's largest corporations. Delich used the University's resources to create a rewarding college experience and to launch his career.
To Delich, from Hermantown, Minnesota, bigger looked better. "I wanted to go to a bigger school and branch out," Delich says. So he decided to attend the College of Liberal Arts at the University of Minnesota. A bigger school is what Tony found: CLA alone enrolls a population almost twice that of his hometown. Understandably, he had some concerns about attending a big school in a big city.
He knew he needed to find a campus home for himself, like a core group of friends, to make his University life feel more like a small-school experience. Delich joined fraternity Delta Kappa Epsilon.
Delich credits the Greek system as an excellent way to meet people. "It allowed me to meet a lot of people from different backgrounds," Delich says, "all walks of life."
While his fraternity life opened the door to meeting friends, Delich also lauds the fraternity's focus on worthy causes. "One of our functions," Delich explains, "was during the beginning of the Second Gulf War. We had an alum who was a helicopter pilot over there." Motivated by their fraternity brother overseas, Delich and others in his fraternity collected food, clothing, tooth brushes, and magazines and sent them to soldiers in the Gulf.
When it came to academics, Delich did not immediately know what he wanted when he started at the U of M. He considered engineering, statistics, and architecture, all of which he eventually decided were not quite right.
Finally, he found his niche. "I had an econ course that I really enjoyed," Delich recalls, "I just kind of ran with it."
To enhance his major, Delich took advantage of the University's resources. The University's flexibility allowed him to add a minor in business management from the Carlson School of Management.
As he got closer to completing his degree, Delich went to a few on-campus recruiting events to explore careers and companies. He was impressed that Target Corporation's financial group, Target Financial Services, held a recruiting event at the University, sponsored by CLA's Career and Community Learning Center. "Target came to CLA," says Delich. He met some representatives from the company and, after numerous interviews, was offered a job in the corporation's Unit Development Leader management training program.
Now, as a manager of twelve employees, Delich uses the same leadership skills at his workplace that he practiced in his fraternity.

"I thought a CLA degree with a Carlson minor would really help prepare me for the business world," Delich says. And, combined with his experiences at Delta Kappa Epsilon, it did in a big way.