Nearly 75 Penn State students gathered last night in the HUB Auditorium for a concert benefiting The Student Alcohol Management (SAM) Spady Foundation.
Hosted by Delta Kappa Epsilon, 500 W. Beaver Ave., the event included performances by two a cappella music groups.
None of the Above (NOTA), a student group comprised of 15 male and female members, opened for The Nittany Knights, who are a local male barber shop chorus.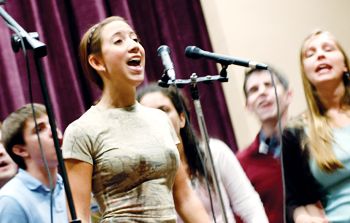 Miranda Hitchcock performs a song at the
Delta Kappa Epsilon benefit concert last
night in the HUB Auditorium.
PHOTO: Kyles Lewis
A third of the proceeds from the evening will go directly to The SAM Spady Foundation, which spreads knowledge about alcohol awareness, alcohol poisoning prevention, and high risk drinking.
Delta Kappa Epsilon president Grant Miller said this was the first time his fraternity has sponsored a philanthropy event like this.
Addressing the crowd of students, Miller said, "Every action you make not only affects your life, but everyone around you."
Many members of the Penn State Greek community were in attendance at last night's event, including several members of the sorority Alpha Omicron Pi (AOP).
Amanda Dryer (sophomore-political science), a member of AOP, said she heard about the event through her sorority, and she was happy to support a cause that recognizes alcohol abuse.
"It applies to all of us...it could happen to any of us," Dryer said.
Familiar songs like Justin Timberlake's "Cry me a River" and Paula Cole's "I don't Wanna Wait" sung by NOTA helped enthuse the crowd before The Nittany Knights took the stage singing some older hits and entertaining the crowd with stories from their childhoods.
One student, Nikalus Baikow (freshman-accounting) said he really enjoyed the performance by The Nittany Knights.
"It was really neat that a lot of the guys were alumni and it was nice that they got us involved and stopped to tell us some funny anecdotes."
Miller said the event was scheduled to coincide with his fraternity's Dry Week, but he hopes to see it continue annually.