Psi Phi Deke Kent McDill authors book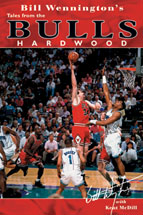 Kent B. McDill '78, with Bill Wennington, has written Bill Wennington's Tales From the Bulls Hardwood (Sports Publishing LLC – ISBN: 1-58261-792-9). The stories in Tales From the Bulls Hardwood are written through Bill Wennington's inside experience as a center for the Chicago Bulls from 1996-98 and a participating witness to the historic second three-peat NBA titles.
Kent has been a sportswriter since 1978, working in Chicago and Indianapolis for United Press International before joining the Daily Herald in Arlington Heights, Illinois, to work as the Chicago Bulls beat writer. From 1988 to 1999 he traveled with the Bulls on a daily basis and ended up being the only beat writer to cover all six Bulls championship teams.
From 1991 through 1993 the Bulls won three consecutive NBA titles behind the talents of Michael Jordan and Scottie Pippen. When Jordan retired in 1993, those fans thought the good times were over. In the fall of 1995, however, Jordan was ready to make a full return to NBA action, Pippen was still the best number two man in basketball, and then bad-boy Dennis Rodman was signed to join the franchise that had grown to hate him. Suddenly, the Bulls had the greatest team in NBA history. Bill Wennington's Tales from the Bulls Hardwood tells some of the inside stories from that team, the one that won three more NBA titles from 1996 through 1998. Seen from the eyes of three-time NBA champion center Bill Wennington, the Bulls come to life differently, from an insider's point of view. The 1995-96 Bulls won an NBA record 72 games and became the Beatles of professional sports.
The book can be found in bookstores everywhere. The 188-page book is available for $19.95 and also can be purchased directly from the publisher by calling toll-free in the continental United States, (877) 424-BOOK (2665), or online at SportsPublishingLLC.com.
Kent and his wife, Janice, have four children: Haley, Dan, Lindsey and Kyle. They live in Park Ridge, Ill. Kent's e-mail address is kmcdill@aol.com.