March 10, 2007
Episcopal 'coach' set to take field
By Mary Adamskis
Hundreds of people are expected as spectators today when the Episcopal Church ordains a new bishop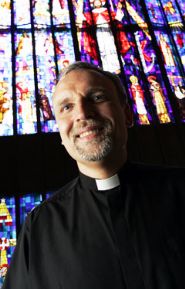 Bob served as president of Psi Phi of DKE during the 1980-81 school year. The quintessential fraternity president, Bob was known for his mild demeanor, strong sense of humor, penny loafers and smoking pipe.
for Hawaii. The ceremony brings 15 other bishops to Hawaii, including the presiding bishop of the United States and prelates from Okinawa, Taiwan, New Zealand and the Philippines.
Bishop Robert Fitzpatrick has already signaled to the 8,600 church members in Hawaii that he wants them to be active participants, not spectators, in the years ahead. He set that goal in motion earlier this year by giving them some homework. His list of suggested reading, published in the Hawaiian Church Chronicle, provides guidance from modern authors about making church activity a more vibrant and exciting experience and linking it to the world outside the sanctuary.
After the pageantry of today, a 9 a.m. service tomorrow at St. Andrew's Cathedral will formally install Fitzpatrick in the bishop's chair, known as the "cathedra" back when Latin was the language of the church. Back in the day, and to this day, there are people who take the throne as a sign of power and pomp, a centuries-old "prince of the church" image.
Not so for Fitzpatrick, 47, who said in an interview Tuesday: "I think I would describe myself as a coach.
"I prefer to think of myself as an evangelist, a missionary. That usually comes out as teaching, conveying complicated things in a way people can understand. My first question is usually, What is the goal? Where is God calling us, and what are we going to do to get there?
"The bishop's primary role has always been that of teacher; that's why the chair was set in the middle of the room in a cathedral," said Fitzpatrick, who was elected in October by local clergy and lay people.
The Rev. Robert L. Fitzpatrick
Fifth elected bishop of Episcopal Church in Hawaii

Since 2000: Canon to the Ordinary, executive assistant to Bishop Richard Chang

1990-2000: Rector of Grace Episcopal Church, Fort Wayne, Ind. Previous ministerial assignments were in Morristown, N.J., and Indianapolis churches.

1984-85: Guest lecturer, Trinity Theological College, Umuahia, Nigeria

Education: Bachelor of Arts from DePauw University, Greencastle, Ind.; Master of Divinity from the General Theological Seminary, New York City; Doctor of Ministry in preaching, Seabury-Western Theological Seminary, Evanston, Ill.

Born: Decatur, Ill.

Age: 47

Wife: Beatrice Elizondo Fitzpatrick is director of medical programs at Hawaii Business College. They have two sons, Edward, sophomore at Macalester College, St. Paul, Minn., and James, senior at 'Iolani School.
"The reading list is about shaping a community, getting people to value certain things," said Fitzpatrick. The idea is "to develop a common language." Members already speak the language of the strategic plan developed by the state General Convention and of the "MDGs," the Millennium Development Goals about conquering diseases and poverty generated by the United Nations 2000 Millennium Summit, to which local churches have committed 0.7 percent of the annual budget.
The book list is of recent publications on ministry, reconciliation, spirituality. What the new bishop has been reading during his morning and evening prayer routine is 1,400 years old.
Sixth-century Pope Gregory the Great wrote about "what it means to be bishop," Fitzpatrick said. His "Pastoral Care" treatise was translated by ninth-century Saxon King Alfred in England, and it is traditionally given to English bishops, along with a Bible, when they are ordained.
Local church members are not surprised at Fitzpatrick's approach to changes that are inevitable in a change of leadership. As "canon for the ordinary" since he came to Hawaii in 2000, they have gotten to know him as executive assistant to the retiring Bishop Richard Chang. He has been out among the 39 local churches as a mediator in congregations undergoing conflict or changes, bolstering clergy and reviewing ministry work in parishes.
The church Fitzpatrick will lead has changed significantly since Chang came back from an assignment at the New York national headquarters to lead a diocese of people polarized by dissension and deeply in debt. Chang's predecessor resigned amid recriminations over a plan for a retirement development that sank because of financial problems, leaving the diocese with a $4 million bank note. Programs were cut and jobs terminated, and after six years of fiscal belt-tightening, the church was free of debt.

The new bishop tells it this way: "Dick Chang was the person who came on the beach, and the boat was aground with a huge hole in it, the rigging was a mess, there was no crew. He patched the hole, got the boat back in the water, fixed the rigging, called out a new crew.

"Now it is time for someone to take the charts and the stars and to sail. I think people are ready for that and love that and are thankful for the fact the boat is not sinking."

The bishop envisions a church that will now focus more energy outward in the community.

"The transformation I've seen as the diocese became healthier ... is congregations reaching out again." One such sign is congregations that have committed to Family Promise, a network of churches that take turns housing homeless families.

He wants to find people willing to commit to becoming deacons, an ordained position "to be the voice of the needs of the world within the church. They are the icons, the embodiment of the ministry we all share."

Talking about change ahead, the bishop said, "The issue that mainline churches are struggling with is, How do you have an identity when identity is not based on 'you are in charge'? Mainline denominations are used to being in charge. If we can give up that notion, that we have to be important, then we can have fun. It can change the way we do ministry," said Fitzpatrick. "The point of church is to have fun, to be joyful. Those churches that will survive will be those who can speak the language of the people ... speak to the people's lives."