January 25, 2007
Foods feature familiar face
Joe Paterno graces the cover of Super Buns, available in the frozen food section of Giant stores.
By Jennifer Thomas
First it was Wheaties. Now Penn State football coach Joe Paterno's face will be on another breakfast food.
Nutritionally fortified Super Donuts and Super Buns -- yes, baked goods with 14 vitamins and minerals and four grams of protein -- featuring an image of Paterno will debut locally in the frozen foods aisle of Giant supermarkets today.
"You don't get this in a regular doughnut," said Ron Rossi, vice president of sales and marketing for Super Bakery Inc.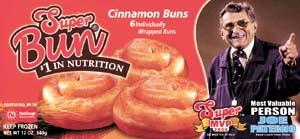 Paterno will be featured in the central and eastern Pennsylvania market thanks to his tie to with Franco Harris, a former Penn State football player and Pittsburgh Steelers Hall of Fame running back.
Harris has run Super Bakery since 1990, and recently added R Super Foods, a sister company to handle retail operations.
"The student went back to his mentor perhaps," Rossi said.
Paterno was featured on a collectible Wheaties box in 2003.
Paterno was chosen because of his commitment to educational projects, such as the Paterno Library, and efforts to support the local community, Rossi said.
"His career speaks volumes," Rossi said.
Paterno's photo will be featured on the box and there will be a Paterno collector's card inside.
In Pittsburgh, where the baked good will be sold at Giant Eagle, Pittsburgh Steelers wide receiver Hines Ward will be on the box.
R Super Foods plans to continue using its products to honor sports figures for their off-the-field public and community service achievements. Donations from sale proceeds will be made to foundations or charities the sports figures support.
Paterno has designated the Paterno Library Endowment, which helps pay for items such as books, journals and databases, as his charity, said Nancy Eaton, dean of University Libraries.
"They've been long-term supporters of the board, I'm very grateful," she said. "Our relationship with them is pretty deep."
This is the company's first venture into the retail market. Until now, the company's product has only been available to schools, health-care operations, the military and other institutional markets.
The company touts Super Donuts as a healthier alternative than similar snack foods -- but consumers still need to know their limits, Rossi said.
"Everybody likes doughnuts," Rossi said.
"We don't advocate you eat a whole box of doughnuts, because they're still doughnuts."