The Interfraternity Council (IFC) at Pennsylvania State University elected Grant Miller as its president during the Nov. 28 meeting of its President's Council. Miller, the outgoing president of the Phi Rho chapter of Delta Kappa Epsilon, will be sworn in to office at the President's Council meeting in mid-December and will take office at the beginning of the 2007 spring term.
The purpose of the IFC is to govern Penn State's 47 member fraternities, to promote the intellectual, philanthropic, fraternal and social values of the fraternities at Pennsylvania State, and to maintain cooperation between these social fraternities, their respective inter/national headquarters, alumni, the State College community, and the Pennsylvania State University. IFC also is responsible for coordinating specific events, including Fall and Spring Rush, and other Greek activities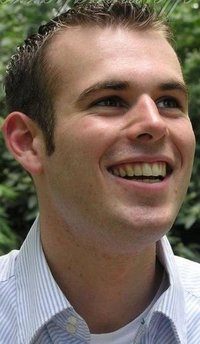 Grant Miller, outgoing president
of Phi Rho of Delta Kappa Epsilon
was elected president of
the Penn State IFC
Miller was elected vice president of membership of the IFC last spring. A junior at Penn State, he prepared for his role by actively participating in organizations and events that helped hone his leadership skills.
He took part in Penn State's Greek Leadership Retreat in 2005. He attended the Undergraduate Interfraternity Institute last summer, a week-long leadership forum sponsored by the North-American Interfraternity Conference for fraternity student leaders from all over the U.S. and Canada. He also participated in LeaderShape, a leadership conference sponsored by Office of Student Engagement and held Penn State.
Miller joined the Phi Rho chapter of Delta Kappa Epsilon (DKE) fraternity as a freshman in 2004. Prior to being elected chapter president, he served as secretary of DKE's Executive Council, social co-chair, scholarship chair, and vice president.
Last summer, he worked in the Office of Fraternity and Sorority Life at Penn State. He also has served as a Lion Scout Tour Guide, working as a liaison with Penn State's admission office, providing campus tours to prospective students and their families. Miller participated on the Penn State Tennis Club and was an Intra Club League participant. He also has interned with a Penn State faculty member, holding a research position involving library study, manuscript editing and proofreading on a comparative study of the English and Chinese languages and the Penn State Mission in China.
A member of the Schreyer Honors College at Penn State, with a GPA of 3.97, Miller majors in English and has minors in Spanish, Mandarin Chinese, and French.
Demonstrating a strong interest in community service, Miller has volunteered at the Salvation Army with his Delta Kappa Epsilon fraternity brothers. He has served as a Hall Hauler and has raised funds for the Penn State IFC/Panhellenic Dance Marathon (THON) with his DKE fraternity brothers. THON is the largest student-run philanthropy event in the world, raising $4.1 million last year for children with cancer.
Miller has danced in the 48-hour Penn State IFC/Panhellenic Dance Marathon. He has served as a College of Liberal Arts mentor and a Freshman Orientation Leader and facilitator. With his fraternity brothers, he has volunteered for Big Brothers/Big Sisters of America. He has served on the Schreyer Honors College Student Council, and he has twice been auctioned off in date fund-raisers – once in the Schreyer Date Auction, which raised money for breast cancer research, and again in the Area Residence Halls Date Auction, which raised money for the Penn State Dance Marathon.
His accomplishments have been noted with a variety of awards, including the Levy Scholarship from the Penn State College of Liberal Arts. Miller has earned Dean's List honors every semester at Penn State. He received the Phi Rho Chapter of Delta Kappa Epsilon Scholar Student Award in 2004 and 2005. For his contributions to the community through Greek Life, he also received DKE's Spirit of Phi Rho Award in 2005.
He earned the Penn State Greek Oscar Award: Best New Member in 2004. And in 2006, he earned the Penn State Greek Oscar Award: Outstanding Chapter President. This followed the Delta Kappa Epsilon Fraternity President's Award, which he earned for his overall contribution to the Phi Rho Chapter of DKE in 2005. Earlier this year, Miller received Penn State's Outstanding IFC Member Scholarship.
The son of Russel and Barbara Miller, Miller is a native of Allison Park, Pennsylvania, where he graduated from Hampton High School in 2004 with a 4.07 grade point average. At HHS, he was chosen for membership in the National Society of High School and Collegiate Scholars and also was a National Honor Roll Member in 2003-2004.
Delta Kappa Epsilon is a social fraternity founded at Yale University in 1844. More than 70,000 men have been initiated into DKE, including newspaperman William Randolph Hearst, Southwest Airlines Founder Herb Kelleher, Senate Majority Leader Henry Cabot Lodge, Yankees' owner George Steinbrenner, Composer Cole Porter, FedEx Founder Fred Smith, Proctor and Gamble's James Gamble, American Bandstand Host Dick Clark, and the Wrigley Company's William Wrigley. Forty-Four US Senators, Forty-Two Ambassadors, Three Supreme Court Justices, and hundreds of other government officials have been members of the fraternity. DKE is the only fraternity to call five US Presidents Brothers. Rutherford B. Hayes, Theodore Roosevelt, Gerald Ford, George H.W. Bush, and George W. Bush have ALL been members.
November 29, 2006